You are here
Academic Guides
Enrollment/Registration:Ahlia School accepts students of all nationalities who wish to join our school. Our curriculum is intended for average to above-average students. Students should be at the age group specified in the table below by December 31st to qualify them for the Grade that they are applying for, this is as per the Ministry of Education guidelines.Please refer to Table (1)form for details.
Kindly note that it is required that Students be toilet trained in order for a student to progress from Pre-Nursery to Nursery.
Table (1)-Grade Levels and Age Groups
PRE-SCHOOL
ELEMENTARY SCHOOL
MIDDLE SCHOOL
HIGH SCHOOL
Grade
Nursery
KG1
KG2
G1
G2
G3
G4
G5
G6
G7
G8
G9
G10
G11
G12
Age
3
4
5
6
7
8
9
10
11
12
13
14
15
16
17
Payment Methods: Parents can either pay school fees yearly, per semester or monthly. In case Parents choose the monthly option, they are required to sign a declaration confirming that they will pay the school tuition fees at the beginning of each month for the full academic year on a monthly basis over a period of ten months. In case of any withdrawal during the semester, Parents are required to pay the full school tuition fees of that semester.
Discounted Fees: Parents are eligible for a 15% discount on the school tuition fees only when they register siblings (the brothers and/or sisters of their child). Withdrawing the students who received the discounted fees during the school year cancels the discount awarded.
Withdrawal Procedures: the following procedures should be followed in case of withdrawal:
•The parent must in form the school in writing indicating the final day of attendance. Parents are responsible to ensure the return of all (textbooks), library books, and complete the payments of any unsettled fees.
• (Clearance notice) must be obtained from the Accounting Department, Resource Center, Library, and Classroom Teachers.
• Students withdrawing from school before the last day of school or during the school year will be given transfer grades only.
Ahlia School will request Parents to withdraw their child from school for reasons such as:
• The student cannot fulfill the school's academic expectations.
• Parents have provided the school with false in formation or qualifications that might hinder the student's learning or other students as well.
Since Ahlia School has limited resources to help students with special needs, Parents should mention any area in which they suspect their child to have difficulty with, inform the school of assessments, evaluations, or records of support received privately or in their child's previous school.
If a Student is found to have learning needs beyond the capabilities and resources of Ahlia School, the student will be asked to withdraw. This withdrawal will result in no legal or financial liability for Ahlia School.
Refund Policy: If the student withdraws after the first day of school or during the semester, Parents are not eligible for any school tuition fee refunds. Parents are eligible to claim a refund of 50% of the school tuition fees that they paid prior to the first day of school. Kindly note the following:
• Registration fee of (BD200) is non refundable
• If the student with draws after the first day of school, Parents are not entitled to a refund
School Uniform: Ahlia School uniform demonstrates how we value the school to which our students belong. Items in the uniform are as follows:
PRESCHOOL- Prenursery to KG2- (Girls- Plaid Dress; Boys- White shirt with plaid shorts/long trousers(for winter))
ELEMENTARY- Grade 1 to Grade 5- (Girls- Plaid Dress/ light blue shirt with beige trousers; Boys- light blue shirt with beige trousers/shorts(for summer))
MIDDLE SCHOOL- Grade 6 to Grade 8- (Girls- White shirt with Plaid skirt or royal blue long trousers; Boys-White shirt with royal blue long trousers)
Students of Ahlia School must wear the above mentioned items as per the following:
• School uniform with student's name mentioned on the inside label/tag
• School socks
• Black formal shoes
• Physical Education(PE) uniform with white tennis shoes for the PE class
• Girls and boys must have their hair clean and tidy
• Girls must tie their hair with ribbons and/or hair band that match the school uniform at all times
• Girls who wear a head scarf (Hijab), scarf should be in either white or beige to match their uniform
• Hats can be worn by boys & girls outside in the playground
*The School Uniform can be purchased from House of Uniforms in Al Aali Mall.
First Week of School: The first week of school is always a challenge for new
Students and Parents. Please refer to the below mentioned plan for the first day of
school.
Day 1: Time: 07:00 – 09:00
•Collect Books and materials
• Conduct group activities according to grade level
• Introduction to building, classmates and faculty
• Develop social skills and work with classmates to understand sharing, taking turns and teamwork.
• Productive, educational, trust building group activities
• Revision of Rules and Regulations
*Note: The first day and week of school is important to a great start to an even better year, so please make sure that your child does not miss this great beginning.
Breaks: Students have (2) periods of (20 minutes) rest throughout the school day.
Students should use these breaks to eat, drink and socialize. It is forbidden to eat or drink in the classrooms and halls unless permitted to do so.
Students cannot use these breaks to sell, compete or carry out unsupervised student activities.

Attendance: All students are expected to attend all scheduled classes each day unless there is a valid reason for absence.
Absence: In case your child is absent from school, please call and inform the Admin Team. Please note the below mentioned cases:
• In case of absence for one than one day, Parents must submit either a signed letter of explanation and/or medical certificates/reports as appropriate on the day of your child's return to school.
• In the case of repeated absences with or without an excuse, a further assessment will be carried out by the school's Direction.
The collection times are as follows:
• 12:40 for Pre-school
• 14:05 for Elementary & Middle School
Parents should wait outside the main gate until the same is opened by the School's Security Guard.
Parents should not enter the classroom to collect their child in Elementary School. They are expected to wait until the bell rings and their child exits the school
building.
Early Collection In case you collect your before the end of the school day, please note the following actions to be taken:
• Inform the Administration Team and the Teacher by providing a written note on the same day or in advance
• Visit the Administration Office, fill in an early collection slip (yellow in color) and request a member of the Admin team to collect your child from the class.
Furthermore, Parents must submit either a signed letter of explanation and/or medical certificates/reports as appropriate on the day of your child/children's return to school.
The collection time for both Pre-school and Elementary is no later than 13:45 where then after, student will be transferred from the classroom or school playground to the Late Pick-up Room located in the Administration Building.
The last pick up time for all students in Pre-school and Elementary is (13:45). Parents, who repeatedly pick-up their children later than this time, will be either subject to additional fees, or will be advised to register their child with transportation.
*Note: In all the above cases, Parents may contact the Administration Office and inform them of your child being late, absent or early collection.
Early drop-offs: The School gate will open at (06:45) and Children arriving at the school campus before (06:50) are not allowed inside the school building without supervision.
Tardiness: School day begins at 07:00 in order to enable our students to take full advantage of their day, it is essential that your child arrives on time on a daily basis.
Kindly note the following:
• In case of late arrival for less than 15 minutes, the Parent may guide their child to class providing that they do not interrupt the teacher as the class is in progress.
• In the case of late arrival for more than 15 minutes, parents must take their child to the Administration office, fill in a late slip (yellow in color) and a member of the Admin Team will guide your child to his/her class.
We would like to work with you in maintaining the best possible attendance record for your child.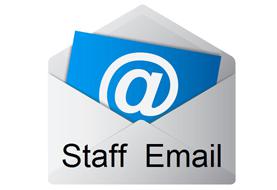 Staff Email